Depression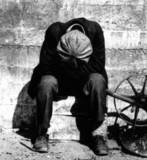 Depression for a believer is a problem because we have verses like 1 Thessalonians 4:16, "Rejoice always."  Psalm 32:11 says, "Be glad in the Lord, and rejoice, O righteous, and shout for joy, all you upright in heart!"  We are commanded to rejoice, but we do not because joy means that we have a deep confidence in God.  But when we feel depressed we can feel hopeless.  Depression can be defined as a debilitating mood, feeling, or attitude of hopelessness, which becomes a person's reason for not handling the most important issues of life.  We are surviving in a state of existence without a strong desire for anything.
A key to understanding depression is the source of our depression.  We hear things from the media or other sources talking about chemical imbalances as a cause for depression.  The medical community has not been able to prove a chemical balance or imbalance ever.  There are medical causes for depression whether they are imbalances or not, who knows.  For medically diagnosed reasons for depression please see your physician.  But depression is not only a medical issue it is also a spiritual issue.  If it is not a medical issue that is causing the depression than what is it?
We may need to look at our goals in our lives.  Are our goals God's goals or are they just our goals that God has no plan of ever putting into our lives.  I personally struggled with this because I wanted to be a pastor in my timing and not God's.  I needed to change the way I was thinking.  Our goal in life is not to get married or buy a house with a great job and picket fence it is to please God.  2 Corinthians 5:9, "So whether we are at home or away, we make it our aim to please him." If we are feeling depressed we may need to take some time to evaluate whether we are making it our aim to please the Lord.  What in our lives has become more important to us than pleasing the Lord in the circumstances that we find ourselves?  We know that we have elevated something in our hearts above pleasing the Lord when we become upset if we do not get something or when we lose it.  This is called an idol, and we must remove all the idols in our heart.
The historical account of Elijah gives us a good look at depression that can come over those who are serving the Lord.  Elijah after going upon Mount Carmel and challenging the prophets of Baal and seeing the God work mightily by sending fire from heaven to consume the sacrifice that had been drenched in water and was given the strength to slay the prophets of Baal after this great victory, Elijah becomes depressed.  1 Kings 19 is where we find the historical account of Elijah's depression.  The Jezebel the wicked queen ordered that Elijah be killed and after the great victory up on Mount Carmel, Elijah becomes afraid and runs out into the wilderness.  We see that one of the reasons that Elijah became depressed was because he was fatigued.  When we are not getting are rest or not eating properly we are susceptible to depression.  Elijah had angels that ministered to him in the wilderness and fed him and helped to bring him back to strength.  They would feed him and then tell him to go back and rest.  Secondly, we see in 19:10, "He said, "I have been very jealous for the Lord, the God of hosts.  For the people of Israel have forsaken your covenant, thrown down your altars, and killed your prophets with the sword, and I, even I only, am left, and they seek my life, to take it away."  Elijah had gone from great victory to being self-focused, in verse four times he mentions himself and selfishness in our lives can lead to depression.  We must be on guard for selfishness in our hearts.  Elijah was basically saying God I am ministering for you and no one else and I do not deserve to be chased down.  Elijah had the wrong perspective, God does not owe us anything we never have the "right" to demand anything of God.  As Job says in Job 1:21, "And he said, "Naked I came from my mother's womb, and naked shall I return.  The Lord gave, and the Lord has taken away; blessed be the name of the Lord."
We need to change our thinking.  No longer should we respond by living by our feelings, but by the truth of God's word.  God is good and God is sovereign and in control of all the circumstances that come into our lives.  Romans 8:28-29 says, "And we know that all things work together for good to them that love God, to them who are the called according to his purpose.  29 ¶ For whom he did foreknow, he also did predestinate to be conformed to the image of his Son, that he might be the firstborn among many brethren."  We take the things we do not like in our lives that are out of our control and allow God to use them to conform us into the image of His son.  We confess any wrong thinking that has brought us into depression and we get busy serving the Lord and others and just living life.
Pastor Shawn
Pastor
sphurley32@gmail.com
419-999-1936